Peterson Portable Sawmills Presentation

Back

Thin-kerf AND Hardwood?

Would YOU throw away 10% of your timber resource? Well that's just what you do when you mill your logs with any other than a Peterson Portable Sawmill!

Trials run by the Timber Industry Training Centre in Rotorua credited the Peterson mill with a massive 82% recovery rate from medium to large logs. In line with other mill's figures, the Peterson mill produced 9.6% - 10.7% more timber from the same amount of log than any other circular sawmill trialed, and 7.2% more timber than the most popular bandsaw mill tested. This extra recovery can return the entire cost of the mill in JUST ONE MONTH.

The Peterson mill also achieved the highest consistent accuracy with a maximum average deviation of just +/-1.5mm (the same bandsaw was +/-4.5mm, and the fastest cutting double-bladed mill was +/-4.95mm)

These results clearly set new standards for portable and conventional mills everywhere, providing the most product, the most valuable product, the most saleable product, and the most useable product at the lowest possible cost.

All this from a mill which can be purchased for as little as NZ$13,000 + GST, and which can produce 2 cubic metres plus per hour sawn timber (in ideal conditions).

The new Winch-Production Frame mill now on offer, has proven even more accurate and more efficient than the Peterson mill trialed at TITC, as it uses THE NEW THIN-KERF HARDWOOD BLADE.

Whether you are buying, borrowing, or hiring, doesn't it make sense to insist on a PETERSON PORTABLE SAWMILL !?
COMPANY PROFILE
Welcome to the world of Peterson Portable Sawmills!

Peterson Portable Sawing Systems Ltd designs and manufactures top quality portable sawmills in New Zealand, and exports these mills to many countries around the world, as well as producing for the New Zealand market.

Carl Peterson conceived the first Peterson Portable Sawmill in 1977, while living deep in the jungle of the Fiji Islands. The design was the complete answer to all the problems he encountered there such as inaccessibility, extra large logs, lack of logging machinery, lack of capital and inexperienced manpower.

The first fully functioning prototype was shown in 1988 at the NZ National Fieldays where it won the NZ Farmer Invention Award. The business was officially born in 1989, when the first sawmill was sold. That sawmill is still operating at Gisborne, NZ.

Now, eleven years later, Peterson's employ 10 full-time staff and are the top selling sawmill in New Zealand. Initially targeting the New Zealand market, the Peterson mill has gained an enviable reputation for portability, price, production capabilities, and long-term durability. Over 750 sawmills have been sold throughout Australasia and worldwide. Designs have continued to improve in leaps and bounds since Petersons were awarded the prestigious Red Stag Forestry Innovation Award in 1993, the Highly Commended Small Business Exporter Award at the 1994 New Zealand Export Awards, the highest accuracy and recovery results at the 1995 Portable Sawmill Shootout sponsored by the Forestry Education Centre & NZ Portable Sawmillers Association, and the Health & Safety Excellence Award in 1988 sponsored by ACC/OSH & the Central District Fieldays, as well as many other awards.

Peterson's success depends on their ongoing research and development to provide a sawmill that best caters for each country and client's requirement. As new markets are entered (and existing market requirements change) Peterson's design sawmills that are best suited to that country's geographical and economic climates. Much of Peterson's success begins at the drawing board, with perhaps 30% of staff hours being spent in this research and development. This ensures a product with the most up-to-date technology, top efficiency, and productivity for the job description. This is why Peterson's are the TOP SELLING SAWMILL IN NEW ZEALAND, and are currently exporting to more than 20 countries.

Key Personnel:

Sales & Customer Relations - Roy Tortoiseshell

Production & Technical Support - Chris Browne

Finance & Administration - Catherine Crompton

Marketing & Advertising - Kerris Browne

Spare Parts & Purchasing - Craig Hammond

Patent Cover:

Peterson Sawmills are protected by patent grant in NZ, Australia, USA, Canada and South Africa, with a number of new features subject to an International Patent application (PCT) covering more than 50 countries.
1. Description of Mill Operation

A number of power options are now available which drive a tungsten-tipped circular blade in a unique process in which the sawblade rotates 90 degrees to achieve both horizontal and vertical cuts. The horizontal cut is made by pushing the carriage up the log. A simple hand movement swings and locks the cutting unit into a vertical position which is then pulled back down the log, thus freeing one section of timber. Carriage movement through the log requires about 10-lbs. pressure. Once a row of cuts across the log face has been completed, the entire unit is lowered to the desired depth of the next cut. This process takes about 10 seconds.

2. Materials Used

High quality stainless steel and aluminium materials are used throughout all Peterson sawmills to ensure extreme portability, robust performance, and long term durability in even the harshest conditions. Petersons export to many of the Pacific Islands, where even the most unskilled operators are achieving resounding success.

3. Portability

The heaviest portion of all Peterson mills are easily wheeled across firm ground by a single person. The Islander and Production Frame models in broken down form are easily hand-carried over rough terrain into the felling site by two persons. The Production Frame in assembled state normally requires four persons to transport long distances over rough terrain by hand. All Peterson mills are equally efficient either shifting the mill from log to log and site to site, or permanently set up in a fixed site. Setting up around a stationary log normally requires about 10-30 minutes. Alternatively, a stockpile of logs can be placed on skids and rolled into the mill one by one, or two or three at a time. The mills do not require flat ground - they can be set up on moderate slope with undulating terrain. Disassembly and loading upon a small trailer or ute usually requires only 15 minutes.

4. Dimensions

The following dimensions are absolute maximums and are not always necessarily obtainable. The 6" mills can cut up to 6 1/2" x 6 1/2" (165mm x 165mm), with a possible 6" x 13" (150mm x 325mm) board by joining two horizontal cuts. The 8" mill can cut up to 8 1/4" x 8 1/4" (210mm x 210mm), with double cuts up to 8 1/4" x 16 1/2" (210mm x 420mm) by joining two horizontal cuts. The 10" mill can cut up to 10 1/4" x 10 1/4" (260mm x 260mm), or double cuts up to 10 1/4" x 20 1/2" (260mm x 520mm). One slab per log can be cut with a standard blade to the full log width between 1 - 1.5 metres depending on mill.

5. Training, Support, & Warranties

In New Zealand, every Peterson sawmill sold comes with a half-day's training. Overseas, there is either an agent or owner/operator network providing help in your area, or a detailed instruction and training video is supplied. For multiple orders, Petersons offer on-site training in your country. * All sawmill frames have a warranty of 24 months on a return-to-factory basis. Often, repairs can be done in your area, but prior approval from the base factory must first be obtained. Engines are covered by their own specific warranties. Petersons stand behind every sawmill they make - no matter how old - as long as they have not been altered, modified, or changed in design - and help is only a telephone call away, day or night.
1. Basic Winch Production Frame Models

Available in 6" (up to 6" x 12"), 8" (up to 8" x 16"), 10" (up to 10" x 20")

These models are designed for fast production of high quality, extremely accurate timber. In most cases the frame remains in one piece, and is transported from site-to-site on the back of a small pickup/ute or trailer. The tracks are easily broken down into four 4m lengths that can travel over the top of the mill frame. Breakdown or setup usually takes 15 to 25 minutes.

Basic Package includes above setup with 8m of two-segment heavy duty low track to cut up to 6.2m long logs, and a standard log diameter frame (depending on model size see below). This portable low track setup is recommended for situations where the mill will be frequently moved from log to log.

Motive Power Cut Size Low Output Avg Output Max Output

Honda 20HP 6" 2-3 cu/m per day 4-8cu/m per day 2cu/m per hour

Honda 20HP 8" 2-3 cu/m per day 4-7cu/m per day+ 2cu/m per hour

Honda 20HP 10" 2-3 cu/m per day 4-7cu/m per day+ 2cu/m per hour

The Honda 24HP (upgrade option) can produce around 10% more output per day on all models.
Standard Equipment Included in Basic Package
· Honda 20hp GX620 electric start motor w/muffler, centrifugal clutch & fuel tank.
· Log Diameter Frame to: 1.2m for 6/8" mills, 1.5m for 10" mills
· 4m+4m (8m) heavy duty track to cut 6.2m logs (extn can be purchased)
· Two Tungsten carbide tipped blades
· Sharpening kit; Grinder, leads & diamond wheel
· Two Jockey wheels for easy movement
· Tool kit; spanners, allen key, spare tips, blade screws etc
· Safety kit; muff, visor, gloves, earplugs
· Cmp illustrated sawmill manual, motor manuals, and warranty details
· Hands-on instruction and training if purchased in New Zealand
· Detailed instruction & training video if purchased overseas
2. Basic Islander Frame Models MK111

Available in 6" (up to 6" x 12"), 8" (up to 8" x 16"), or 10" (up to 10" x 20")

These models are very popular in the remote Islands, where extreme portability needs outweigh most other requirements. Method of operation is slightly slower than the Winch Production Frame models, but these frames are more easily broken down or folded into smaller portions that can be hand-carried right into the site. If ute or trailer transport is not available, these mills can also be transported via punt or small boat, bullock & sled, or any other small transport method. Breakdown or setup at the site takes less than 10-15 minutes in most cases.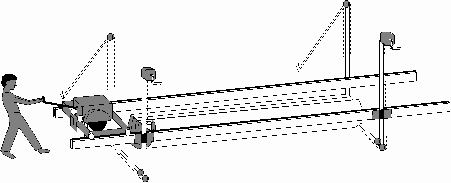 Motive Power Cut Size Low Output Avg Output Max Output

Honda 20HP 6" 1-2 cu/m per day 3-6cu/m per day 1.5cu/m per hour

Honda 20HP 8" 1-2 cu/m per day 3-5cu/m per day+ 1.5cu/m per hour

Honda 20HP 10" 1-2 cu/m per day 3-5cu/m per day+ 1.5cu/m per hour

To suit Stihl 090 6" 1cu/m per day 2-3cu/m per day 1cu/m per hour
Standard Equipment Included in Basic Package

· Honda 20hp GX620 electric start motor w/muffler, centrifugal clutch & fuel tank.

· Frame to cut up to 1.8m diameter large logs

· 6m+1m+1m h/duty track to cut up to 6.2m logs

· Two Tungsten carbide tipped blades

· Sharpening kit; Grinder, leads & diamond wheel

· Jockey wheel for easy movement

· Tool kit; spanners, allen key, spare tips, blade screws etc

· Safety kit; muff, visor, gloves, earplugs

· Cmp illustrated sawmill manual, motor manuals, and warranty details

· Hands-on instruction and training if purchased in New Zealand
3. Upgrades

For Winch Production Frame models ONLY:

*The Hi/Lo Track Frame is especially suitable for fixed site operations where there is a stockpile of logs available to roll into the mill. The Hi/Lo track upgrade option has two very important advantages; firstly the sawdust is discharged under the high track preventing sawdust build-up on the track itself and secondly, logs can be easily rolled under the high track into cutting position (preventing possible track damage by rolling the log over a low track). Once the Hi/Lo is purchased, it can also be removed and the mill can also be used in the Low position when required. The Hi/Lo must be ordered at time of purchase.

*The 6" and 8" mills can also be upgraded to larger 1.8m frame to cut big logs up to 6 foot in diameter - this facility must also be ordered at time of purchase. In some circumstances you can cut an even larger log by raising the bottom tracks.

For both sawmill models:

*For higher production or personal preference, Petersons also offer alternative motor upgrades on all models to either a 24hp Honda or a 25hp Kohler. For those setting up undercover, in a permanent fixed site where there is a power supply, or in low noise areas, a 15hp Electric motor can also be supplied instead of the 4-stroke models.

*In remote areas where access to a workshop is limited, Petersons recommend upgrading the standard electric-start 20hp Honda motor to include a pull start facility - in case of a flat battery this facility is a life saver!

*Remote Area Service Kits are also available and include about 100 hours worth of service and wear & tear items - motor filters, rollers, blade teeth, v-belts, gearbox repair kit etc.

*On the 6" and 8" sawmill models, the cutting heads are designed to be interchangeable, allowing later upgrades between 6" to 8" and back from 8" to 6". This allows the initial purchase of a cheaper 6" mill and the later upgrade to 8" when finances allow it!

4. Alternatives & Accessories

Petersons have a selected range of log handling tools which greatly assist in rolling/moving logs at milling sites (see Price list), plus we also manufacture a Dedicated Wide Slabber and import a range of Band Resaws from the USA plus a heavy duty Planer/Moulder from Sweden (ask for separate brochures on these).

5. Tracks

Standard 8m track lengths are supplied with the quoted mill prices to cut up to 6.2m long logs, but additional extensions can be added on to the Production Frame mills to whatever specifications you require (some of our sawmillers cut logs to 10m). Double track sections on the Production Frame mills can also increase production dramatically, permitting a second log to be loaded and prepared while the first is being sawn at the other end. With this system two operators have achieved 18cu/m in a days work! Longer extensions can also be added on to the Islander, but it is less practical than the Production Frame in attempting to saw logs over 8m in length. See Price list.

6. Blades

Saw blades come in different sizes and types. We offer Standard blades, which require brazing on of new tips when worn (usually done by a Sawdoctor or trained operator), and also special Insert blades with removable "Insert Claws". These claws can easily be replaced with new ones right at the milling site using the Insert Tool (does not require specialist training), so only the claws are then sent away for retipping while the blade continues running with new claws in place. In 1998, Petersons also upgraded their 8" and 10" sawmills to run thinner kerf blades - you will have to check that your mill is running a 1.9:1 gearbox to effectively use these blades. See all blade prices on Price list.

7. Shipping Sizes

Small Production Frame mills:

One timber crate @ 2.5mx1.2mx.8m=400kg, plus one bundle tracks @ 4mx.38mx.23m=100kg.

Large Production Frame or Islander mills:

One timber crate @ 3mx1.2mx.8m=450kg, plus one bundle tracks @ 4mx.38mx.23m or 6mx.38mx.15m=100kg.

Two mills shipped together:

One timber crate @ 3mx1.2mx1.2m=800kg, plus one bundle tracks @ 4mx.38mx.39m or 6mx.38mx.23m=200kg.

One 20' standard container:

Can hold 10 - 15 mills @ 350kg each.

Approximate Running/Service Costs (per 8hr Daily Cost)

4-6 litres petrol per hour under load: @ $1 NZD p/litre per day 24.00

Blade teeth, approx one set of 6 teeth retipped per 1 to 2 weeks @ $40 NZD p/blade per day 8.00

Wheel (track roller) replacement when worn, approx 2 - 4 months @ $64 NZD p/set per day 2.13

Oil Filter replacement (service) per 100 - 200 hours depending on motor @ $20 NZD ea per day 1.33

Air Filter Element replacement (service) per 100 hours @ $15 NZD ea per day 1.25

Oil Change every 100 hours (service) @ $8 NZD p/litre per day 1.33

Gearbox oil, grease, coppercoat (top-ups and cleaning etc) @ $5 NZD p/week per day 1.00

Blade Retensioning when required, approx every 300 hours @ $20 NZD p/blade per day 0.53

Vee Belts replacement when worn, approx every 6 months @ $40 NZD p/set per day 0.33

TOTAL DAILY RUNNING COST per day $39.90

VERSUS INCOME; Daily output of approx 4 cu/metres at NZ contract rate - $140 p/cube $560.00

Examples of cutting dimensions and patterns for all mills

Why Buy a Peterson Sawmill?

1. Extremely portable due to simple, uncomplicated design and lightweight materials

2. High quality materials - mostly stainless steel & aluminium for lightweight durability

3. No other heavy equipment/machinery required to operate a Peterson mill

4. Very high production compared to purchase and running costs (3-10 cu metres per day avg)

5. Can handle large or small logs equally successfully, unlike most other mills

6. Recovery of up to 75% or 80% on good logs (proven 82% at competition)

7. Good resale value - long lasting materials and a reputable name in portable sawmilling

8. Accurate timber produced - our mills are well known for their accuracy (to 1mm)

9. Easy to operate - a lot of our operators have no prior experience in milling at all

10. Low cost - the most obvious advantage over just about any other portable mill

11. Very simple one-person operation; unloading, setup, operation, board removal, disassembly, and loading up again.

Advantages of a Peterson Mill over a Bandsaw Mill

1. Less Cost - we have never come across a bandsaw that could do so much for so little

2. Easier to use - operating a bandsaw requires specialist knowledge

3. Faster sawing - bandsaws tend to be slow, especially with double handling

4. More portability - no bandsaw we are aware of comes close to our portability

5. No resaw required - what comes off our mill is the end product; bandsaws require resawing

6. More accurate cuts - most bandsaws waver over and around knots on large cuts

7. Can cope with large logs - bandsaws can only saw small to medium size logs

8. Less machinery required - as bandsaws can't set up around the log, log loaders are needed

9. Easier blade sharpening process - bandsaws require expensive blade-sharpening equipment

10. Less running costs/blade maint - bandsaw blades require frequent replacement at high cost

11.Quality components - all bandsaws we know of use mostly low quality, corrosive materials

Advantages of a Peterson Mill over a Quartersaw Mill

1. Safety - quartersaws tend to throw out large pieces of log as both blades work together

2. Less Cost - most quartersaws start well above the cost of the largest Peterson mill

3. Better finish - our sawmills are well known for having a much better clean finish

4. Easier to learn - our equipment is a lot less complicated to learn, operate and to repair

5. More portability - our mills are at least one third or less weight than most quartersaws

6. More accurate cuts - our accuracy is well known; + or - 1mm with an experienced operator

7. Lower running costs - qrtrsaws have high running costs due to more blades & larger motor

8. Higher recovery rates - our mills have better recovery due to thin kerf & ability to saw slabs

9. Size per capacity ratio - in comparison of size, our mills have a much higher production

10. Better resale opport - our mills have an enviable reputation & don't depreciate as much

11. Less machinery required - our mills do not require any additional equipment

12. Cut size not so restricted - most quartersaws are limited to a sm horizontal cut & lg vertical

13. Quality components - all qrtrsaws we know are made out of easily corrosive heavy materials

14. Faster setup - compare our 5-15 minute set-up time to 1-3 hours for a quartersaw!
What About Safety?

Peterson Sawmill have been operating for more than 10 years now, and have sawn more than 5 million cubic metres of timber in that time.

As the pioneers in single blade sawing technology, Petersons have acquired a great deal of experience over the years in dealing with hazards associated with single blade sawing. We have drawn on that experience to design and build a portable sawmill that is second to none in terms of operator safety and ease-of-use.

In addition, the design staff at Petersons is constantly evaluating and upgrading safety standards in order to eliminate risks associated with sawmilling which, after all, can be a potentially hazardous occupation. In the interests of general safety, Petersons insist that no design changes or repair work be undertaken on Peterson mills without authorisation by Peterson's skilled engineers. All equipment must be treated with respect at all times, and be used only in the manner for which it was designed.

Patent & Copyright Infringements

Other manufacturers in New Zealand and Australia have blatantly copied key elements of Peterson design technology. In order to prevent further abuse, Petersons have been acquiring patent protection wherever possible. Letters of patent grant in several countries now protects elements of Peterson design technology. Other design aspects are currently subject to patent applications in various stages of acceptance. Take note that Petersons are determined to prosecute patent and copyright infringements energetically, which may also involve purchasers of infringing equipment.